Biometric Mirror's new technology temple in the Netherlands
Should we cuddle up to the common promise that artificial intelligence is here to detect anomalies and protect lifestyles? Or should we distance ourselves from systems that monitor day and night when our safety, freedom of movement and employability depend on it? We are living through a historic moment toward algorithmic governance where artificial intelligence can capture and harness vast amounts of data, reducing every face to an intangible set of factors.
These urgent questions and ideas characterise a new version of Biometric Mirror commissioned by Nxt Museum, the Netherlands' first new media art museum in Amsterdam, for a 12-month long show Shifting Proximities.

Biometric Mirror by Lucy McRae and Dr Niels Wouters. Part of the inaugural exhibition at Nxt Museum, _Shifting Proximities_, opening 29 August. © Peter Tijhuis
The new version of Biometric Mirror is a spongy technology temple that invites audiences to posture for an algorithm that measures emotional stability, kindness levels and so-called beauty, among other biometrics. The commission strengthens the collaboration between artist Lucy McRae and the Human-Computer Interaction Group at the School of Computing and Information Systems at the University of Melbourne.
Based on an algorithm developed by research fellow Dr Niels Wouters and team, the exhibit questions the validity and appropriateness of ubiquitous facial recognition systems – which too often are biased and flawed, and with minimal transparency of their inner workings. Frequently the systems are trained using incomplete or non-diverse data sets.
With set design by Lucy McRae, the cushioned arena crosses realms of ceremony, sport and worship, creating a physical space to questions the accuracy and assumptions of facial recognition algorithms. Seated or standing at three of Biometric Mirror's padded shrines, audiences consent to an AI tracking their face and itemising them by trustworthiness, kindness, fear, weirdness and intelligence – while simultaneously broadcasting to an AI 'altar', becoming the artwork's protagonist.

Biometric Mirror by Lucy McRae and Dr Niels Wouters. Part of the inaugural exhibition at Nxt Museum, _Shifting Proximities_, opening 29 August. © Peter Tijhuis
This is not the first public appearance of Biometric Mirror . The project initially launched at the University of Melbourne in 2018 and has since travelled to global forums such as World Economic Forum and World Bank, and has been exhibited at Science Gallery Melbourne and Dublin, National Gallery of Victoria, Design Museum Den Bosch and music-tech festival Splendour in the Grass.
Biometric Mirror's estimated global impact reaching 300 million people has allowed massive numbers of individuals the opportunity to experience an interactive AI demonstrator and witness some of the inherent shortcomings of facial recognition systems. It has proven to be a timely conversation starter and mechanism to engage audiences across all levels of technical familiarity with AI and related domains.
While Biometric Mirror's readings are certainly entertaining in nature, they also aim to provoke some controversy and critical reflection. What if these readings are kept, used by law enforcement or during job application review, and thereby influence your future career, relationships or freedom to move through society?
Nxt Museum has commissioned a new iteration of Biometric Mirror providing digital mementos to visitors in the form of emailed facial analysis reports. These reports include a full psychometric overview as reported by Biometric Mirror and a transformed representation of their face that is considered perfect. These 'algorithmic facials' as Lucy and Niels call them are a permanent reminder of the social and technical change we're currently subjected to. The new iteration is also fully COVID safe as visitors now control the experience by way of their own mobile phone and gentle head gestures. The team collaborated with software developers and interaction designers at Sandpit to bring the experience to life.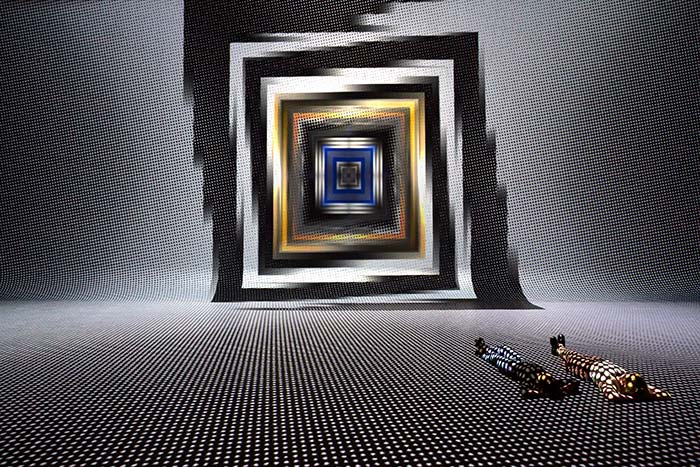 Dimensional Sampling #1 by Yuxi Cao (James). Part of the inaugural exhibition at Nxt Museum, _Shifting Proximities_, opening 29 August. © Peter Tijhuis
With works by United Visual Artists, Marshmallow Laser Feast, joy Buolamwini, Heleen Blanken and many others, Nxt Museum presents large scale, multi-sensory environments that challenge our assumptions about technology and open minds. Biometric Mirror at Nxt Museum opens for the public on 29 August 2020. While travel may be restricted for a while, Shifting Proximities will run until late August 2021.
Related topics
AI and data Technology and society