The journey to being a champion of peace
By Renaldi Gondosubroto
Renaldi Gondosubroto is a Bachelor of Science student majoring in Computing and Software Systems. Committed to furthering student engagement and experiences with emerging technology in his field of study, he has been involved in a number of extra-curricular activities including founding the Internet of Things student club at the University and speaking at a number of programming conferences. Renaldi attended the 2nd Peace Summit of Emerging Leaders with support from the School of Computing and Information Systems.
At the beginning of 2020, I had the opportunity to attend the United Nations 2nd Peace Summit of Emerging Leaders, held in Bangkok, Thailand. The three-day summit gathers young leaders from across the world to provide them with a better understanding of peace building, to allow them to return to their communities as a champion of peace.
The summit included sessions from inspiring guest speakers such as Derek Schwartz, a U.S. Marine who fought in the Iraq and Afghanistan War, and Rahila Haidary, a refugee and human rights advocate who escaped Taliban Rule to Australia, as well as sessions that allow delegates to reflect, learn and create their own peace initiatives that would be beneficial to their community and understand how to best advocate for them.
Renaldi putting forward his opinion on an issue at a Peace Summit session
I attended the summit because I believe that peace building is a very important skill to develop at this present time, and that the hard issues that many communities face, particularly those within Australia, must be talked about. I also wish to be able to also bring something from the summit to put in place in the University of Melbourne as well in order to promote peace within the University as well. Understanding peace in the different contexts from the summit will allow me to contribute further towards the peace building initiatives that already are within the University, as well as to the different communities I am around every day.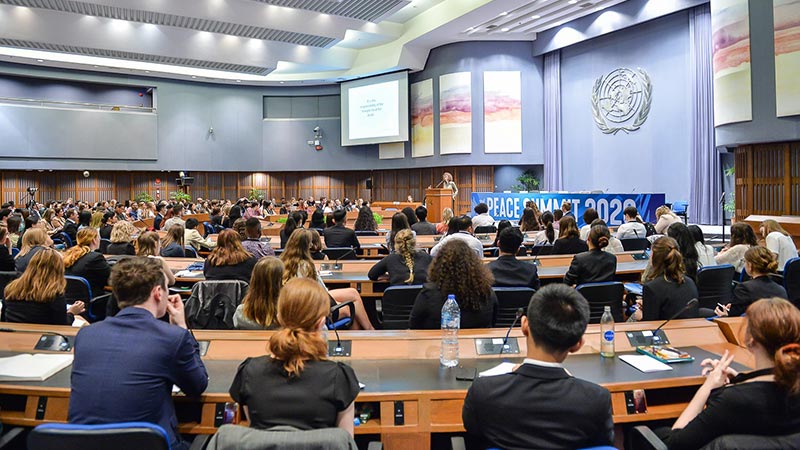 Marina Cantacuzino presents to a room full of delegates
The main highlight for me took place on the third day of the summit, in a session for making a Peace Action plan. Here, delegates were split into groups based on their interests of the location they want to help make a peace initiative for: Thailand, Cambodia and other countries. I then went along with the 'other countries' group and there we started discussing creating a solution that could be implemented globally across different universities for the purpose of advocating peace. Deciding on focusing on the issue of mental health to tackle as a general problem in our communities, we formulated an initiative named 'Press the Button'. This is a solution which would allow students to be connected quickly to health professionals when needed with the push of a button of an app while also encouraging students to help one another by allowing them to put their problems inside mailboxes which students who have done the same thing can respond to as well to help, encouraging a get-and-give-back process.

Delegates network at the event
Through the summit, I have learned more about what the meaning of peace is, the different types of peace that currently are available, and more about what people can do to bring peace towards their own communities. I also learned how to advocate for my stance in peace, such as through one of the activities provided by ReliefWeb, a digital-based service provider for the United Nations Office for the Coordination of Humanitarian Affairs, in which I had to negotiate towards having a diplomatic resolution in representing a stakeholder for a given case study with my peers.
Such an experience adds diversity to the overall course experience, allowing students to experience more of international relations while building on their skillset. Having initiatives also brought back from the summit, I can now also better contribute towards bettering the University's efforts in promoting peace.