Keeping an Eye on Dementia Using Science from Space
Free Public Lecture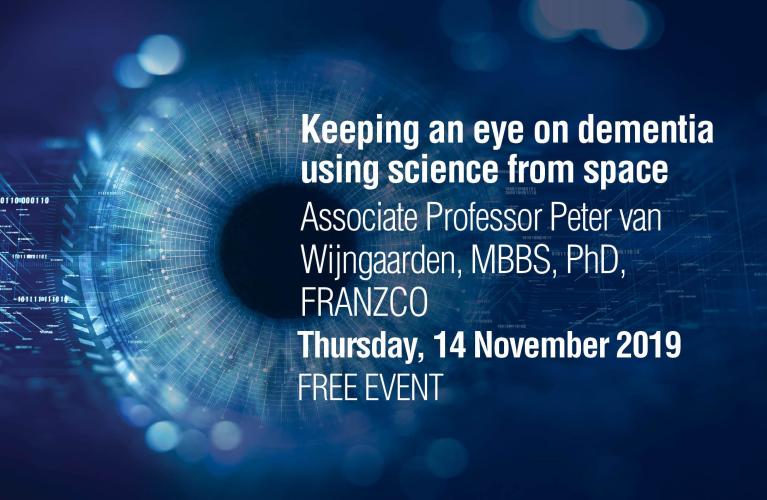 Auditorium
Peter Doherty Institute
Grattan Street
Map
The eye has long been regarded as the window to the brain and recent advances in imaging technologies may make it possible to detect early signs of brain diseases via the eye.
A research team at the Centre for Eye Research Australia has applied a method developed by NASA scientists for imaging the earth from satellites to the eye in an attempt to identify signs of Alzheimer's disease in the retina – the thin layer of specialised nerve cells that lines the inside of the eye. Using a quick rainbow-coloured flash they are able to collect highly detailed information about the structure of the eye and have shown that this approach can distinguish between people with early Alzheimer's disease and those without. They have confirmed these findings using state-of-the-art brain scans (positron emission tomography).
The talk will address the growing problem of Alzheimer's disease and the need for innovative solutions for the detection and management of the disease. It will delve into the links between the eye and the brain and the science that is the basis of the Centre's Research approach, with fascinating detours into astronomy, engineering and artificial intelligence
Presenter
Associate Professor Peter van Wijngaarden

Deputy Director
Centre for Eye Research Australia

Peter van Wijngaarden is a Principal Investigator at the Centre for Eye Research Australia (CERA) and an Associate Professor of Ophthalmology at the University of Melbourne Department of Surgery. He is a Deputy Director of CERA and an ophthalmologist in the medical retina clinic at the Royal Victorian Eye and Ear Hospital. Peter completed his PhD in the field of retinal vascular biology at Flinders University and his postdoctoral fellowship in regeneration of the central nervous system in multiple sclerosis, at the University of Cambridge, UK. Peter's research is focused on novel imaging technologies to detect early markers of eye and central nervous system diseases, with a focus on Alzheimer's disease. Peter is a member of the medical and research committees of Macular Disease Foundation Australia, a Board member of the Ophthalmic Research Institute of Australia and is the Royal Australia and New Zealand College of Ophthalmologists (RANZCO) representative on the Vision 2020 Vision Initiative. He is a member of the Futures of Ophthalmology Taskforce of RANZCO and is Clinical Director of the KeepSight Program, a new national program for diabetic retinopathy screening.