Biomaterials and regenerative medicine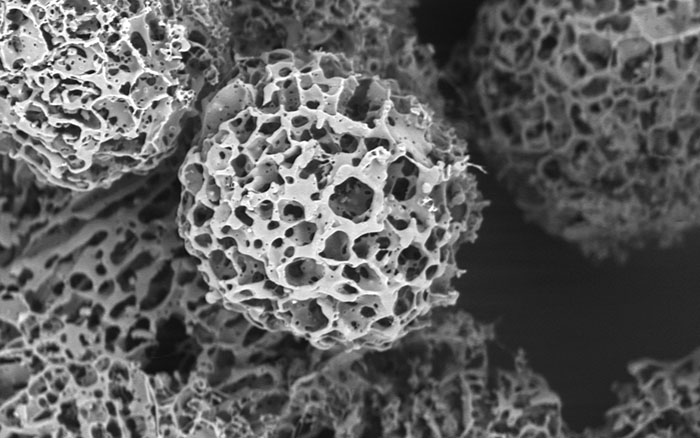 We use technology to support the body's own healing powers and improve a patient's recovery from injury or disease.
Our research uses biomaterials, stem cell technologies and medical device design to restore damaged or missing tissue in the human body and to grow model tissues outside the body. We work with engineers, surgeons, cell biologists and mathematicians to deeply understand the 3D microenvironments that tissues require to grow and function.
Applications include assisting recovery from cardiovascular disease, helping cancer patients regenerate their own tissue after surgery, resurfacing joints affected by arthritis and designing antimicrobial agents that protect against infections.
Our focus
Development of biomimetic materials for wound and tissue regeneration applications
Production of porous polymers and hydrogels
Mechanobiology
Biofabrication for bone and cartilage replacement, soft tissue repair and wound healing
Magnetically regulated tissue engineering
Molecular mechanisms behind wound healing and tissue regeneration
Cardiovascular devices
Neural tissue engineering and neuro prostheses
Understanding dementia using novel technologies to study brain organoids
Materials to enable production of high-quality stem cells at a large scale
Antimicrobial nanoparticles, coatings and composites to fight drug-resistant infections
Our capabilities
Nanotechnology and microfabrication
Design and production of biomaterial scaffolds, devices and tissue constructs
Stem cell culture and bioreactors
3D bioprinting and biofabrication
Physical, chemical and biological characterisation of tissues, biomaterials and their interactions
Mechanical testing of biological materials across scales, from single cell, to tissue and organ
Development and characterisation of antimicrobial materials and their mechanisms of action
Our partners
Anatomics
Centre for Eye Research Australia
LBT Innovation
ReNerve
Royal Adelaide Hospital, South Australia
South Australian Institute of Ophthalmology
St Vincent's Institute of Medical Research
Case studies
Tissue engineering can restore damaged or lost tissue in the human body, and biomedical engineers are working to one day scale up the technology to regenerate entire organs.
Biomolecular engineers are developing new techniques to help patients recovering from breast cancer regenerate their own tissue after surgery, to improve their long-term recovery.
As antibiotics become less and less effective, researchers are turning to new ways to defeat drug-resistant bacteria like Golden Staph.
A technique to make polymer-based skull implants more bone-like in their structure has been developed to improve outcomes for patients relying on implants to repair cranial injuries.
Mechanobiology brings together engineering, biology, and physics – and this technology could help predict your risk of developing a musculoskeletal condition.