FEIT researchers ranked in top one per cent by citations worldwide
Professor Pablo Zarco-Tejada and Associate Professor Andrew Zalesky have received recognition for their significant and broad influence among their colleagues in their respective fields of research, placing them in the top one per cent of researchers worldwide by citations.
Every year, Clarivate releases a list of Highly Cited Researchers who have published numerous highly-cited papers over the past ten years. The Institute for Scientific Information, which compiles the list, uses quantitative and qualitative analyses to identify notable people from around the world and in many different scientific sectors.
Professor Zarco-Tejada is jointly based within FEIT's Department of Infrastructure Engineering and the School of Agriculture and Food in the Faculty of Veterinary and Agricultural Sciences.
Professor Zarco-Tejada has written more than 150 research papers, published in international journals and has been highly cited since 2019. He has been Faculty Member at the University of California (USA), Director of IAS-CSIC (Spain), and Senior Scientist at JRC - European Commission. His research on vegetation fluorescence quantification through airborne imaging spectroscopy has been ground-breaking. Additionally, he serves as an Associate Editor for the journals Remote Sensing of Environment and the European Journal of Agronomy.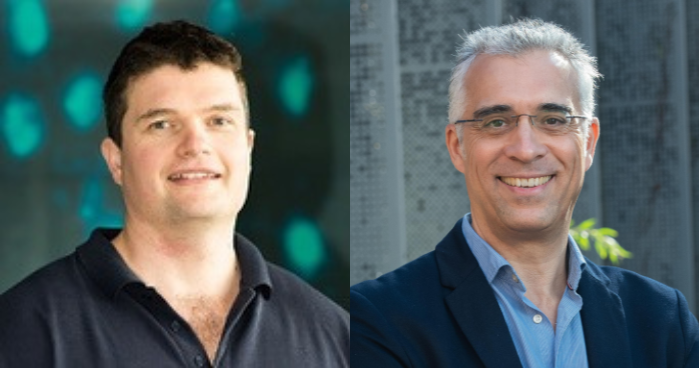 A/Prof Andrew Zalesky and Professor Pablo Zarco-Tejada.
A/Prof Zalesky is jointly based within FEIT's Department of Biomedical Engineering and the Department of Psychiatry in the Faculty of Medicine, Dentistry and Health Sciences.
A/Prof Andrew Zalesky has published over 200 peer-reviewed papers and continues to rank among the Clarivate Analytics top one per cent of researchers worldwide since 2018. He presently serves as Associate Editor for Network Neuroscience, Brain Topography and Neuroimage Clinical, while also holding the inaugural Rebecca L Cooper Fellowship. He is well known for the innovative tools he created for studying brain networks and for using those methods to investigate neuropsychiatric illnesses.
38 researchers from the University of Melbourne are among the nearly 7,000 researchers from 69 countries that have earned this distinction. The researchers have received recognition for their groundbreaking work in a variety of fields, including biology, biochemistry, clinical medicine, ecology, psychology, psychiatry, immunology, neuroscience and behaviour, as well as plant and animal science, molecular biology and genetics.
Professor Zarco-Tejada and A/Prof Andrew Zalesky are at the helm of innovation and aiding in the conversion of human inventiveness into the biggest advancements in our society.
Find the complete 2022 Highly Cited Researchers list here.
Learn more here: https://clarivate.com/blog/highly-cited-researchers-2022-using-deeper-qualitative-analysis-to-help-spot-research-misconduct/