Understand the requirements of the Master of Philosophy in Engineering and PhD in Engineering programs at the University of Melbourne.
It's very important that you understand the course requirements of your PhD or MPhil with the Faculty of Engineering and Information Technology. In simple terms, there are research progress and administration requirements that you will need to engage with and fulfil during your candidature.
Research progress
Your research progress will be assessed during your candidature by your advisory committee and at critical time points or milestones; this is represented by progress reviews scheduled according to your degree type: please see the Milestones (bookmark)section below.
Administrative requirements
Administration requirements need to be completed in a timely manner when enrolment or candidature changes need to be made. Some examples of these are: submission of progress reviews, leave of absence, study away, change to project details and change of study rate. We also expect you to check your University email for current correspondence at least twice per week.
Milestones
Ultimately, it's your responsibility to make sure that you meet the requirements of your degree in the appropriate timeframe.
Timely completion of progress reviews is a course requirement: your enrolment can be cancelled if progress reviews are not completed and you do not endeavour to complete them upon receiving a reminder notification. As a graduate researcher, you must meet with your supervisor regularly and attend progress review meetings with your advisory committee to ensure you are on track to complete your degree within the maximum time period for your degree.
Refer to the diagrams below that represent your review schedule.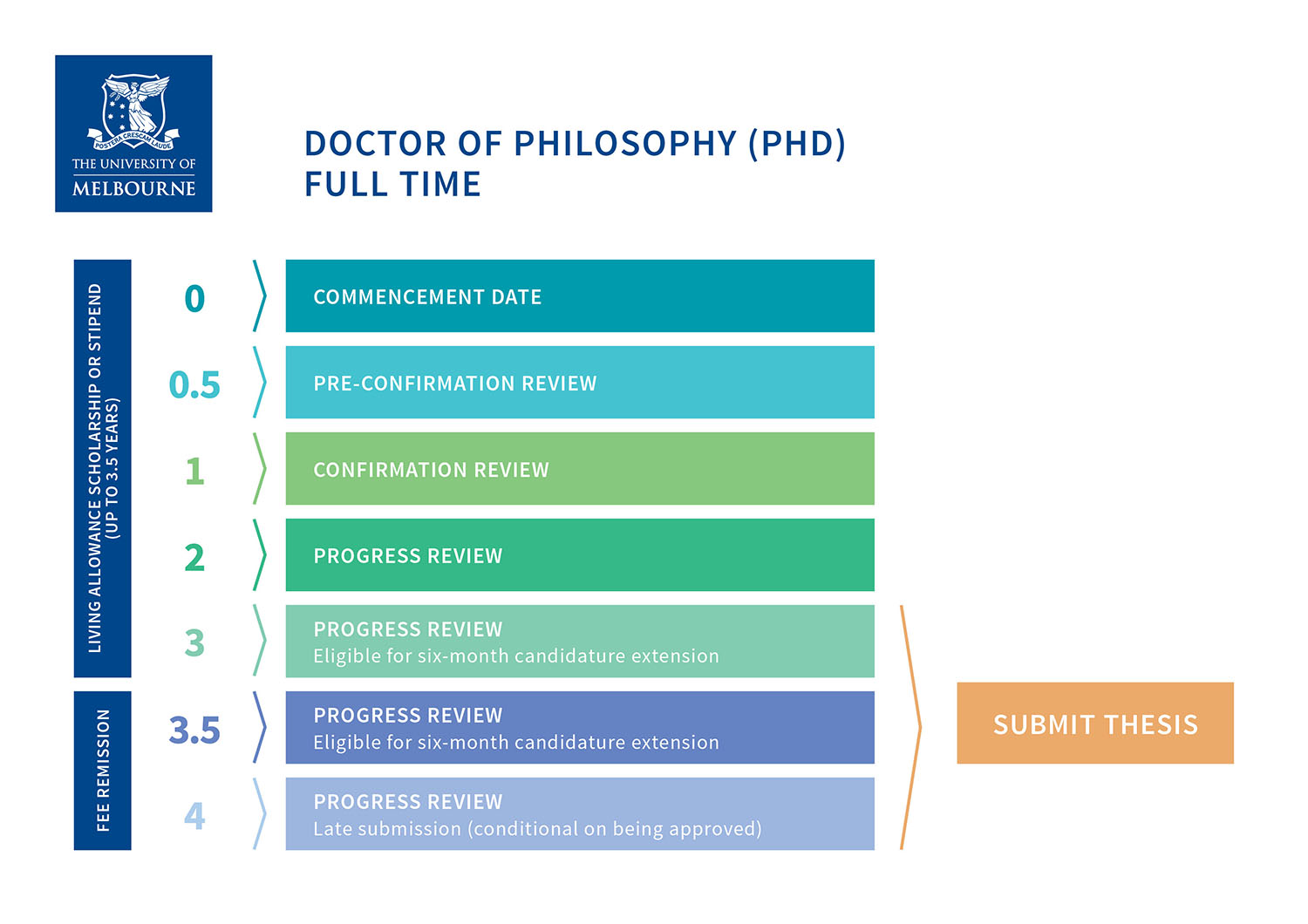 At all times, your review schedule is referenced to your thesis date. If your thesis date is updated, your review dates will be updated. See below for an example of a graduate researcher enrolled in the PhD program who took a leave of absence for one month:
| Milestone | Date |
| --- | --- |
| Commencement | 7 July 2019 |
| Pre-confirmation | 7 February 2020 |
| Leave of absence approved | 1 month (all dates below extended by 1 month) |
| Confirmation | 7 August 2020 |
| Progress review | 7 August 2021 |
| Progress review | 7 August 2022 |
| Thesis submission | 7 August 2022 = 3 years or 3 EFTSL (equivalent full-time study load) |
For more information on confirmation or progress reviews please see the Graduate Research Hub.
Coursework subjects
Graduate Researchers who commenced their research degree on or after 1 January 2019 do not need to complete coursework subjects as a requirement for confirmation or graduation. However, these candidates may be required to supplement their research program by completing coursework subjects if the subject(s) are considered necessary by your principal supervisor. Graduate Researchers who commenced before 1 January 2019 are required to complete coursework subjects as per the handbook for the year in which they were enrolled/commenced their current degree.
Candidature resources
Check your candidature status
You can check your supervisors, study rate, key milestone dates including expected thesis submission date, and other candidature details on the landing page when you log into your Student Portal and click on the Graduate Research tab on the top of the screen.
The Handbook
You will need to refer to the handbook entry for the year in which you commenced. If you are looking for previous versions of the handbook, please see the following links: Doctor of Philosophy - Engineering (DR-PHILENG) or Master of Philosophy - Engineering (MR-PHILENG).
Graduate Research policies and codes of conduct
Graduate Research Hub
For all your graduate research essentials.