Digital Twin Launch
We are delighted to be part of the Fishermans Bend Digital Twin Project working closely with Victorian Government Department of Environment Land Water and Planning, to lead the design and development of an advanced geo-analytics and visualisation platform, launched by the Minister for Planning Victoria on Friday 23 August 2019.
We have put together a talented multi-disciplinary team to build a Digital representation of past, current, and future of Fishermans Bend, as a nexus for innovation and interdisciplinary collaboration, to enable sustainability tied to a variety of applications.
FMB-Digital Twin is an opportunity for us to lead the generation of scientific evidence and prepare for the future challenges ahead. This would allow us to better understand our changing environment and support our societies using location intelligence technologies.
Our team has been pioneering the state-of-the-art technologies to integrate multi-dimensional data, visualise and interact with multi-sourced information to modernize the urban planning and land administration.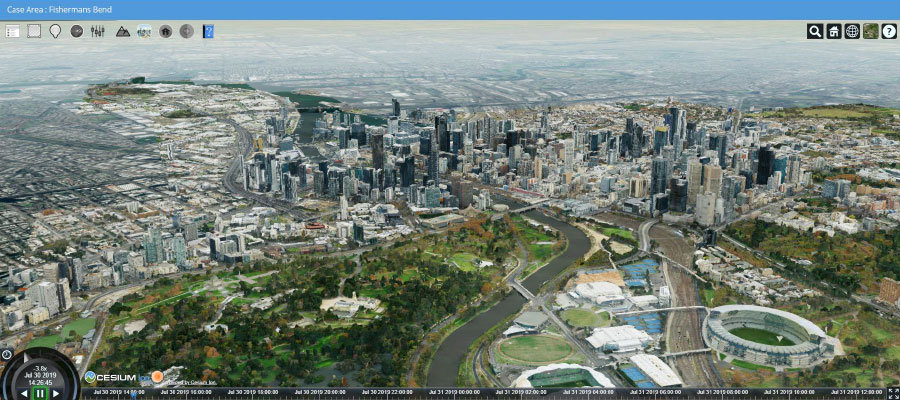 This project provides an excellent opportunity to explore and test future scenarios and technologies and their benefits. Augmented Reality and Virtual Reality have been explored as solutions to bridging the gap between the Physical and Virtual world.
We have used different techniques to visualise objects in their real-world location. The platform provides an immersive experience to walk around and interact with building plans and any infrastructure without having to physically visit the location.
Using only a portable device such as smart phone, a proposed building or an infrastructure can be examined from the outside, and walked around within.
A digital twin is a digital representation of the real world, with analytic tools used to visualise and model past, current, and future scenarios. The Fishermans Bend digital twin will allow 3D modelling over time, in locations above and below the ground to drive better, data driven decisions for planning and infrastructure development.
Major cities around the world are using digital twin technology to address the complex challenges of urban renewal, sustainable and liveable places and digital modernisation. This project will trial cutting-edge technology in Fishermans Bend to investigate data, technology and the role of government in the complex and multi-faceted realm of the cities of the future.
Fishermans Bend is Australia's largest urban renewal project covering around 480 hectares in the heart of Melbourne. It is expected that by 2050 it will be home to approximately 80,000 residents and provide employment for up to 80,000 people.