Fishermans Bend Digital Twin
A Digital Twin project
The Fishermans Bend Digital Twin project adopts FAIR Data Principles (Findable, Accessible, Interoperable, Reusable) and enables spatial information to be searched, discovered, aggregated and visualised seamlessly, irrespective of system, model, data content, server or application.
Overview
A digital twin is a digital representation of the real world. This project will enable creation of 4D modelling of a physical asset's design and condition (above and underground), including precise location and legal boundaries, enabling better decision-making about how to manage current and future infrastructures.
A collaborative and cross-disciplinary approach across government, research and industry will allow CSDILA to aggregate, manage and visualise complex digital information about cities so the information can be interpreted.
CSDILA has been chosen by the Victorian Government Land Use Victoria DELWP (Department of Environment, Land, Water and Planning) to design and develop 'Victoria's first Digital Twin Project' at the landmark urban renewal project: Fishermans Bend.
Fishermans Bend is the perfect location to showcase the importance of this urban planning technology as this inner city precinct is transformed and grows over the next 30 years. In time, government stakeholders will be able to build intelligent, innovative digital systems either independently or collectively, to coordinate the management of smart, sustainable and livable cities, suburbs and regional centres. This work starts with the Fishermans Bend precinct.
By leveraging CSDILA's capabilities and technical resources, and in close collaboration with wider government and industry, the Fishermans Bend project will establish and promote a more responsible approach to the urban renewal and precinct planning activities, and as a live testbed to maximise the achievement of sustainable future for all. It is one step closer to the realisation of the United Nations' Sustainable Development Goals in Australia.
Capabilities
Some of the key capabilities and use cases of the Fishermans Bend Digital Twin project include:
An enterprise solution for web-based visualisation of massive 3D datasets
A collaborative environment for 2D and 3D data sharing with sophisticated access control
Visualising different 3D data formats (eg, BIM, CityGML, Obj, FBX, 3DTiles, DEM, point cloud)
In-house 2D/3D data format conversion and hosting capabilities
Visualising high-resolution photomesh
Sensor network data integration, visualisation and analysis (eg, building occupancy, building energy index)
Real-time data visualisation (eg, Public transport mobility visualisation)
BIM based 3D Cadastre query and visualisation
Planning analysis tools (eg, quantitative shadow analysis, sky view factor)
Providing plug-in capability for adding analytical tools (eg, urban quality of life indicators)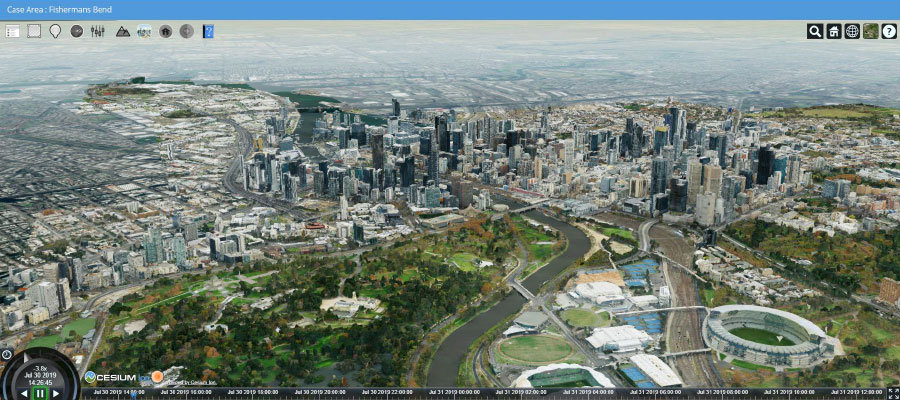 Industry partners and collaborating organisations
Land Use Victoria (Department of Environment, Land, Water and Planning)